Are Brad Pitt & Angeline Jolie destined to divorce?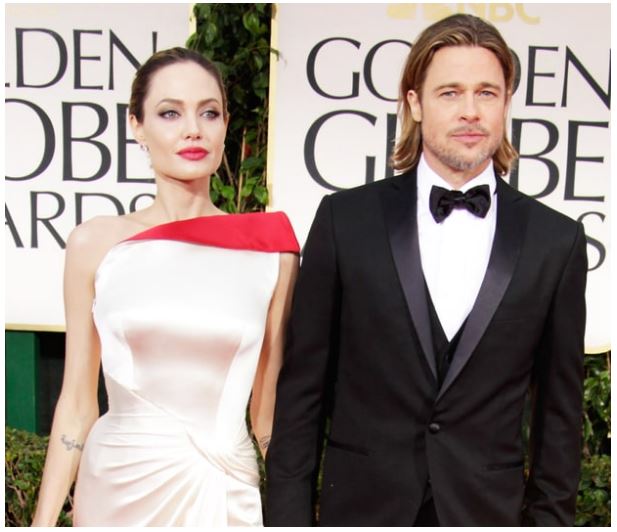 Lately, the high-profile divorce of one of Hollywood's most celebrated couple split, Angeline Jolie, and Brad Pitt was frequently reported on the internet. Why did Angelina Jole file for divorce from Brad Pitt? There is a lot of speculation but no one is really sure what happened. Is it because of Pitt's consumption of weed and alcohol? or an anger problem that became dangerous to their children? or Pitt cheated on Angeline with his co-star Marion Cotillard during the shooting of a spy movie, Allied and also with Russian hookers while boozing it up with coworkers?
Allied is a movie about two spies who fall in love but soon discover that they may be double-crossing each other. The movie will be released on 23 November 2016. That sounds similar to the plot of Mr. and Mrs. Smith the spy movie that infamously brought together Pitt and Angelina, stoking rumors of their an on-set romance despite Pitt's marriage to Jennifer Aniston and subsequently led to his divorce from Jennifer Aniston. Please also read on my blog on "How to select a compatible partner", "Can you marry rich" and "Assessing your wealth capacity". Please print your Bazi Chart here.
Let us look at the destiny chart(Bazi Charts) to check on what actually trigger the divorce of the couple.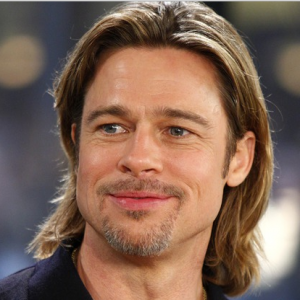 Brad was born in the season of winter when water is prosperous and wood is strong. His Day Master(DM) is considered strong as water produces wood. His favorable elements are fire, earth, and especially metal which was missing from his chart. Angeline Jolie can provide the missing metal to Brad Pitt and much-needed fire elements which are plentiful in her chart. Fire is in his spouse palace, is an important element as it is his Eating God (EG) star which represents his creativity and talent as an actor.
There are three(3) Peach Blossom stars namely Rat(his own Peach Blossom star) in his Month Pillar, Rabbit (a generic Peach Blossom star)in the Hour Pillar and another Rabbit in the Year Pillar in his natal chart. So he appears to be very attractive to the opposite sex. However, all you need is another Peach Blossom star to appear in time, and trouble will erupt. Try to relate to Brad's past in 2005. In 2005, it was a Wood Rooster Year and it was during the filming of Mr. and Mrs. Smith, Brad Pitt started a relationship with Angelina Jolie. The Rooster, a peach blossom star clashed with another peach blossom star, Rabbit and very soon, Brad Pitt divorced with Jennifer Aniston, his wife of 5 years.
I cannot resist quoting the example of Emperor Chien Lung of the Ching Dynasty. He was not only one of the greatest emperors of feudal China but also had a reputation for charm and charisma that was particularly attractive to women. He had many romances and his Bazi Chart was often cited in classical books as being a typical example of the destiny of a casanova. Emperor Chien Lung had four(4) Peach Blossom stars in all his pillars in his Bazi Chart. People who have Peach Blossom stars are often attractive to the opposite sex. There are four Peach Blossom stars in Bazi namely Horse, Rat, Rooster, and Rabbit. Please read my blog on "Month of Love".
Brad Pitt's chart has almost striking similarity to that of Emperor Chien Lung as Brad has 3 Peach Blossom stars in his natal chart. I must emphasize that Brad Pitt's Peach Blossom stars may not be as prominent as those of the Chinese Emperor.
It was reported recently in the news that Angelina Jolie could not help feeling that Brad Pitt was becoming infatuated with his co-star, Marion Cotillard, and detaching himself from her. Whether the alleged affairs/relationship of Brad Pitt with French actress, Marion Cotillard while filming the movie "Allied" happened or not, let us look at his Luck Pillar.

Coincidentally, a fourth Peach Blossom star of Horse appeared in Brad Pitt's current Luck Pillar, thus making a complete set of Peach Blossom stars, just like those of the Emperor. The Horse in the Luck Pillar also clashed with Rat, his own Peach blossom star in his natal chart indicated possible affairs and change of partner. With this postulation in mind, the possibility of the alleged affairs/romance with the French actress, Marion Cotillard during the filming the movie "Allied" could have occurred.
Looks like that there will be many more potential romantic encounters with female friends and admirers for Brad Pitt especially in the coming year in 2017, Year of the Rooster as Rooster is one of the 4 Peach Blossom stars.
The consumption of weed and alcohol can be seen as Horse in the Luck Pillar formed a destruction relationship with Rabbit in the Hour Pillar(also represents thinking, aspiration, desires) and Year Pillar(represents friends & social circles). Destruction indicates a self-inflicted situation due to one's inability to let go of a certain situation like drinking, drug addiction, smoking and other substance abuse.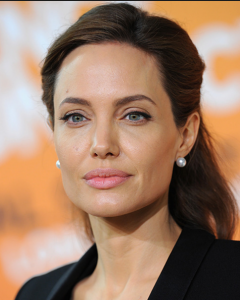 Angeline Jolie was born in the season of summer when the fire is prosperous and earth is strong. Her Day Master of Yin Metal is considered weak as the summer heat weakened her metal, hence she favors metal and water. Her hot chart needs water to cool down the summer heat, which Brad Pitt can give to her as his chart is prosperous in water element. For Angelina, water is important to her as this is her Eating God(EG) which is in the Hour Pillar. As Hour Pillar represents her passion, it means that she is passionate about acting. EG also represents her ideas, talent, and creativity in acting.
There are many Metal elements in her chart which represent her supporters and fans. Metal is also a Resource element to water which is her EG. Her Xin Metal is like a shining ring or jewelry also represents her beauty and elegance. The Bing Fire or Yang Fire in her Chart which is a Direct Officer(DO) star represents her husband star. She has 3 DO stars meaning she has 3 husbands. Coincidentally, Brad Pitt is her third husband.
From the synastry of their charts, in view of their compensating elements for each other, we can see why they are attracted to each other.
From the Luck Pillar, it was noted their marriage problems already started in the LP of Rooster when Rooster, a peach blossom star clashed with another peach blossom star, Rabbit in her Year Pillar in her natal chart. It was reported in the news that the couple had many arguments and heated screaming fights about how to raise their six children in the previous LP of Rooster. These screaming fights continued into the current LP.
Brad Pitt has been accused of being "verbally abusive" and getting "physical" with his adopted son Maddox, 15 years old, while he and his wife, Angelina were returning from France to their L.A. home on a private jet on September 14, 2016. The destiny chart of the day is expressed in the below chart-
The Rooster in the Month of the day on 14 September clashed with the Rabbit in the Hour Pillar of Brad Pitt's natal chart. The Hour Pillar in Brad's chart represents his children, apparently, he was trying to discipline his son, Maddox. The Pig in the Day Pillar on 14 September clashed with the Snake in the Hour Pillar(represent children) and Day Pillar (represents relationship) of Angeline Jolie's chart which resulted in her screaming argument with Brad over her son which probably made Brad Pitt lost his cool and verbally abused his son, Maddox. However, he did not physically abuse his son. In light of the accusations of child abuse, Brad has taken a drug test voluntarily and is cooperating fully with Department of Children and Family Services.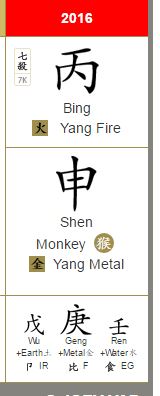 The Yang Fire and Yang Metal appeared in the Monkey Year in 2016. This indicates that Brad Pitt is now self-sufficient in Metal which is missing and Fire elements which are lacking in his chart, hence less attraction to Angelina's fire and metal elements. The Yang Metal also represents Direct Officer(DO) which also indicates possible legal contests. This metal will try to chop wood. Wood in his destiny chart represents his children. This means he will be fighting for legal custody of his children. Fire is not a favorable element for Angelina as fire is prosperous in her chart. Further, she is a Yin Metal Day master, it does need any more forging by fire.
Dragon on the day of filing of divorce by Angelina Jolie clashed with Dog in her current Luck Period. Clash generally represents changes, break-up, loss of something or separation in the destiny chart. The legal battle for custody of their children will start soon. Who will have the legal custody of the children?
There are 3 Snakes in Angelina's Chart. There is the triple combination of Snake and Monkey in 2016. Snakes in Angelina's natal chart will combine with Monkey in 2016 and transform into water. Water represents her children in her destiny chart. Inside Snake, there is a Yang Fire and as Yang Fire represents her husband, the Snake-Monkey combination will transform into water meaning that she will lose her husband but will have custody of the children.
Please click here and like Digidentz at Facebook.