Mark Zuckerberg and Facebook
Mark Zuckerberg is an American computer programmer, Internet entrepreneur, and philanthropist. He is the chairman, chief executive, and co-founder of Facebook. His personal wealth, as of December 2015, is estimated to be $46 billion. Zuckerberg receives a one-dollar salary as CEO of Facebook. Please also read my blog on "Assessment of Wealth Capacity".
Mark Zuckerberg and his wife Priscilla Chan have a baby girl named Max last year. He and and his wife announced that they would donate 99 percent of their Facebook shares — currently about $45 billion — over the course of their lives "to join many others in improving this world for the next generation." The new parents have also launched the Chan Zuckerberg Initiative, which has the broad mission of "advancing human potential" but will focus specifically on personalizing learning, curing disease, connecting people, and building strong communities.
Let us study the chart of this rich, successful and very generous young man. Please print your Bazi Chart here.
Above is the chart of Mark Zuckerberg who was born on 14th May , 1984. His day master is Yang Earth. He was born in the season of summer. Fire is prosperous and earth is strong in summer. His day master is considered strong Yang Earth. In Bazi, maintaining harmony and balance among the elements is important to avoid excessive strengths and weaknesses. To maintain balance, he needs metal elements(his output star-EG star),water element(his wealth element-DW & IW stars) and wood element(his influence star-DO & 7K stars). Hence, his favorable elements are metal, water and wood.
His output star=EG star which is metal represents his talents, skills and ideas. His social network -Facebook idea came during his Xin Wei Luck Period from age of 17 to 26 years old during the Hurting Officer or Output Luck Period. This is when he converted his ideas to a social network platform, Facebook to create wealth.
He launched Facebook on February 4, 2004, at the age of 20 years old and finished the year with 1 million Facebook users. The Yin Earth or Rob Wealth(RW star) in the Xin Wei Luck Pillar, Yin Earth in his Month and Hour Pillar in his natal chart represent his fans of Facebook which brought him great success and wealth. The following year on May 26, 2005, Accel Partners, a venture capital firm, invested $12.7 million into Zuckerberg's network. By the close of 2005, Facebook had more than 5.5 million users.
Two years later on May 5, 2007,at the age of 23, he became the world's youngest billionaire.
Facebook was listed on 18th May 2012 which is a Ren-Chen Year. Mark Zuckerberg was in his Indirect Wealth Luck Pillar of Ren-Shen in 2012 from age of 27 to 36 years when be became very rich.
Based on earthy branch three combination as shown in above table, Shen Monkey in the Ren-Shen Luck Pillar from age of 27 to 36 years, Zi Rat in the Year Pillar in his natal chart and Chen Dragon in 2012 Ren-Chen Year combined to form water structure. As water is his wealth star, he became very rich in 2012.
The number of Facebook users worldwide reached a total of one billion in 2012.
Since 2010, Time magazine has named Zuckerberg among the 100 wealthiest and most influential people in the world as a part of its Person of the Year distinction.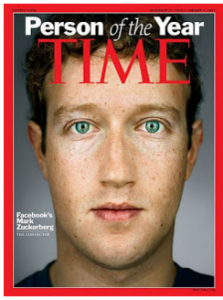 His fortune is predicted to grow over the years as he will be going through many favorable luck pillars until age of 65 and he will also do more donations. Please click here and like Digidentz at Facebook.