Destiny of Playboy founder Hugh Hefner
Hefner founded Playboy in 1953 with $600 of his own money and built the magazine into a multimillion-dollar entertainment empire that at its 1970s peak included TV shows, a jazz festival and a string of Playboy Clubs whose cocktail waitresses wore bunny ears and cottontails. Over the years, his legend grew as he bedded hundreds of young women, married a few of his magazine's "Playmates" and had a stable of girlfriends less than a third his age. He died at the age of 91 years on 27.9.17.
Hefner was born April 9, 1926, in Chicago to Glenn Hefner, an accountant, and Grace Hefner, a teacher. In 1944, after graduating from high school, Hefner joined the U.S. Army as a writer for a military newspaper. Following World War II, he became a promotional copywriter at Esquire magazine, where he began toying with the idea of publishing a men's magazine.
After raising $10,000 from investors, including money from his mother, Hefner at the age of 27 years published the debut issue of Playboy in December 1953. On its cover was actress Marilyn Monroe (photo below), who also appeared in a nude centerfold – a photograph that had been originally used for a pin-up calendar. Playboy was an immediate success, selling more than 50,000 copies.
His Day Master(DM), Wu or Yang Earth was strongly rooted in the Chen Dragon in the Day and Month Pillar. You can print your Bazi chart here. His DM pictorially is like a rocky mountain. Normally, a person with such DM has strong character and has a strong sense of direction. There were also minor Earth roots in The Hour and Day Pillar. He was born in the Dragon month which was the last month of spring when Earth was more dominant over Wood. Hence, his Day Master(DM) was considered strong.
His excessive Earth energies needed to be released through producing Metal, controlled by Wood and weakened by Water. Hence, his favorable elements are Metal(his Output), Water(his Wealth) and Wood(his Influence-fame, status, and power). His unfavorable elements are Earth (his self-element) and Fire (his Resource-the element that produced his DM or support). The most important element to him is Wood (which is his status, fame, and power) as Wood did not appear in his heaven stem of his natal chart. Wood also represents paper, education, magazine, and knowledge. Wood especially Yang Wood which is akin to a big tree, only can do the job of loosening the hard block of Earth as represented by his Day Pillar to bring balance to his chart.
He had a bonus star called Heavenly Virtue Noble(HVN) star in Ren or Yang Water, also his Indirect Wealth(IW) star in the heaven stem of the Month Pillar. When the HVN appears in the chart, the lucky owner will benefit from divine help. His HVN, Ren or Yang Water in the stem also happened to be his positive wealth star. He was indeed blessed with enormous wealth.




His strong Metal star in the Hour Pillar which represented his output star or creative writing skills and gave him the idea of publishing his Playboy Magazine. His Friend stars are also dominant in his chart which gave him the ability to connect and win fans and supporters. He also has an Elegant Seal star which is a creative literary star in the hidden stem of his Month Pillar.
He also has many Wealth stars in his chart which brought him his enormous wealth. According to the most recent public data, Hefner was worth about $43 million upon his passing. This number became public record after Hefner divorced his second wife, Kimberly Conrad, in 2009. It does not include the $105M sale of the infamous Playboy mansion in 2016. His Wealth stars also represented his wives (DW) and girlfriends (IW). He had 3 wives and many girlfriends.
His hidden stems in the Day and Month Pillar had Red Chamber star which represented a high sex star, affairs, adultery and sex scandals. The Day Pillar represented her relationship and Month Pillar his career/business. This explained why he had many wives, girlfriends, affairs, sex scandals and sexual relationship with women in his business. In an interview with Esquire Magazine in 2013, Hefner said the number of women he had slept with was "over a thousand, I'm sure."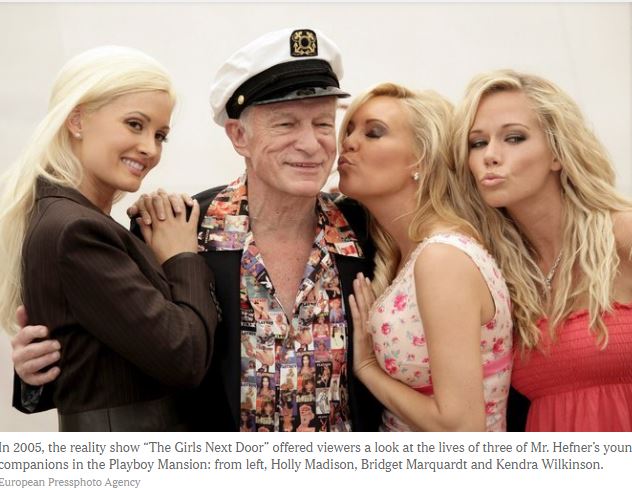 His most important Luck Pillar(LP) was when Wood protruded in his LP. He was in his Luck Pillar of Wood Horse when at age of 27 years, he published the debut issue of Playboy in 1953, a Water Year (water is his wealth element) which was an instant success and sold more than 50,000 copies which brought instant fame and wealth to him. As Playboy flourished in the '60s and '70s, Hefner steadily expanded his brand. In 1960, he launched a chain of exclusive Playboy Clubs in cities across the U.S. and overseas.
Playboy went public in 1971, the same year the magazine's monthly circulation peaked at 7 million issues. In 1971, he bought the now famous Playboy Mansion in Los Angeles, which soon became Hefner's home and attracted celebrities to its lavish all-night parties. 1971 was a Year of Metal Pig,  there was strong favorable metal (Output) and water (Wealth) influence which managed to keep the weak unfavorable Fire which was the setting sun in the Luck Pillar of Fire Monkey under control and he continued to grow his business.
However, when he moved into Luck Pillar of Fire Rooster from Chinese age of 49 to 58 years, his readership of Playboy started to drop as Fire was his unfavorable resource element and the Yin or Ding Fire was stronger than the previous LP as Ding Fire is like a furnace fire compared to Bing Fire or Sun fire. His circulation of Playboy declined further when he moved into his Luck Pillar(LP) of Earth Dog from age of 59 to 68 year and Earth Pig from age of 69 to 78 years which had Death and Emptiness (DE), his luck started to wane as Playboy franchise lost much of its popularity due to intense competition from other raunchier men's magazines such as Penthouse and Hustler. When DE appeared it means everything would be reduced by half. This was because Earth was his unfavorable self-element and represented his competitors and Fire his unfavorable resource resulted in the loss of support of his magazine.
Hefner suffered a minor stroke in 1985 at the age of 59 years in the Luck Pillar(LP) of Earth Dog. Dog in his LP clashed with Dragon in the Day Pillar which affected his health and Dragon in his Month Pillar which affected his business. He stepped down as CEO four years later and turned over all Playboy business operations to his daughter, Christie. By the 2000s, the rise of internet pornography and "lad mags" such as Maxim, which featured scantily clad starlets, had eroded much of Playboy's subscriber base.
He moved into LP of Metal Rat from age of 79 to 88 years which was his favorite period as metal and water were his favorite elements. In December 2012, which was a Water Dragon Year, Hefner married Crystal Harris, another former Playmate, in a small private ceremony at the Playboy Mansion. Crystal Harris was his third wife. He was 86; she was 26. Dragon in his Day Pillar and in 2012 and Rat in his LP of Metal Rat formed a partial 3-harmony combination which resulted in their marriage in 2012.
His date of death decoded
He was in his LP of Metal Ox which had Yin Metal and Yin Earth influence when he died. There was a Sickness star in his LP. The Year Pillar of 2017 has strong Firepower in Yin or Ding Fire which melted/destroyed his Yin Metal in his LP and caused imbalance by adding more unfavorable Earth and Fire elements into his chart. There was a strong Yin or Ding Fire in the heaven stem of the Day and Year Pillar and Yin Earth in the stem of the Month Pillar, all his unfavorable elements appeared on his date of death thus caused his death.
Hefner was indeed a lucky man born at the right place at the right time. There was a joke that when he died the angel told him he was in heaven now, he replied "Heaven? Are you kidding, I just left heaven". It must be his HVN star at work.
May he rests in peace.