The Magic of Lionel Messi
Lionel Messi(pic) is estimated to have earned a total of USD80 million from his football salary of USD53 million and USD27 million in endorsement incomes from June 1, 2016, to June 1, 2017. He is currently the third richest athlete, after Real Madrid star, Cristiano Ronaldo who earned USD93 million and Cleveland Cavaliers, NBA basketball star Lebron James, who earned an estimated earnings of USD86.2 million.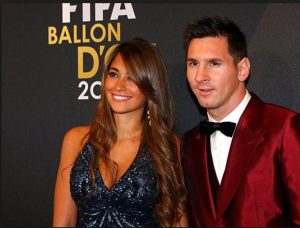 Finally, Lionel Messi, one the world's top and richest footballers announced recently that he is going to marry his childhood sweetheart, Antonella Roccuzzo (pic) in Rosario on 30-June-2017, a week after his birthday, which is going to be Latin America's wedding of the decade.
Let us examine his Bazi Chart. You can print your Bazi Chart here.
He was born in the summer season of Wu Horse when the fire is prosperous. His Day Master of Yang Wood is considered weak as the strong fire will consume his wood. His favorable elements are Wood and Water. Metal is also his favorable element as metal will produce water which is the nourishment for his wood. His favorable Luck Pillars (LP) are Wood, Water and Metal Pillars. This can be supported by the fact that his break through year and most of his achievements are in the Wood and Water LP.
Fire is prominent in his chart. Fire represents his output or his creativity/skills in assisting and scoring goals, creative ideas to outrun defenders and passing balls, and his ability to perform outstandingly in football. He using his Output (Fire) to produce Wealth(Earth). Earth represents his wealth.
A weak Day Master, also harness its wealth through its self-star which is wood. His Wood LP also gives strength to his Day Master to control wealth (Earth). It was noted that he became rich when he was in his LP of Wood Dragon. Water LP will also strengthen his weak Wood to control his wealth. Rabbit and Dragon will form a strong Wood season with Tiger in his next LP will see his wealth increasing further.
Growing up in a tight-knit, football-loving family, Lionel Messi or nick name "Leo" developed a passion for the sport from an early age, playing constantly with his older brothers and his cousins At the age of four he joined local club Grandoli, where he was coached by his father.
On 24 June 2005, his 18th birthday, a Wood Rooster Year, he signed his first contract as a senior team player with Barcelona. His breakthrough came two months later, on 24 August, during the Joan Gamper Trophy, Barcelona's pre-season competition when he was in his Luck Pillar of Wood Dragon, from age of 16 to 25 year. A starter for the first time, he gave a well-received performance against Juventus, receiving an ovation from the Camp Nou. On 16 September, his contract was updated and extended to 2014. He signed a new contract in July 2008, a Water Rat Year, where Indirect Wealth (IW) appeared on the heaven stem of the Year, on an annual salary of €7.8 million, becoming the club's highest-paid player.
He secured Barcelona's first trophy of the 2010-11 campaign, in his Luck Pillar of Wood Dragon, by scoring a hat-trick in his side's second-leg 4-0 victory over Sevilla, after a first-leg defeat. Assuming a play making role, he helped the team achieve 16 consecutive league victories, a record in Spanish football, concluding with another hat-trick against Atletico Madrid on 5 February 2011. His club performances in 2010, a Metal Tiger Year, bagged him the inaugural FIFA Ballon d'Or, an amalgamation of the Ballon d'Or and the FIFA World Player of the Year award.
Barcelona won a third consecutive La Liga title. In addition to his 31 goals, he was also the league's top assist provider with 18. He finished the season with 53 goals and 24 assists in all competitions, becoming Barcelona's all-time single-season top scorer and the first player in Spanish football to reach the 50-goal benchmark.
In 2012, he entered into the Luck Pillar of Water Rabbit saw him break several longstanding records. At the close of the year, he had scored a record 91 goals in all competitions for Barcelona and Argentina. He received the Guiness World Records title for most goals scored in a calendar year. He again won the FIFA Ballon d'Or, becoming the only player in history to win the Ballon d'Or four times. 
He received the UEFA Best Player in Europe award in 2013-2014. In total, he finished the 2016–17 season with 54 goals and 16 assists, while his 37 goals in La Liga saw him claimed European Golden Boot Awards for the fourth time in his career in the LP of Water Rabbit.
However, his financial affairs came under investigation in 2013 for suspected tax evasion related to his sponsorship earnings between 2007 and 2009. Offshore companies in tax havens countries were allegedly used to evade €4.1 million in taxes related to sponsorship earnings. He stood trial alongside his father on three counts of tax evasion in May 2016. 2016 is a Fire Monkey Year. Fire was not his favorable element. On 6 July 2016, he and his father were both found guilty of tax fraud and were handed suspended 21-month prison sentences and respectively ordered to pay €1.7 million and €1.4 million in fine.
The legal issues can be explained by a star called Separating Edge which represents legal issues. Separating Edge star is determined by the Day Branch. His Day Branch is Dragon and the animal sign which has the Separating Edge star is in Horse sign which is in his month earthly branch pillar in his natal chart. Different individuals will have different animal sign symbolizing Separate Edge star depending on the animal sign in one's Day Branch.
Please note that the date he was found guilty also has a Horse in the month pillar.
He is still in his current Luck Pillar of Water Rabbit until 2021. He will continue to enjoy success, fame and wealth for many years to come as he still has many favorable Luck Pillars of Water and Metal after this LP.
Let us know focus on his coming wedding on 30-June-2017.
For timing of marriage, we normally look for combination of animal signs. The animal sign in the Day Pillar of Messi is Dragon. In the Six Earthly Branches Combination, Dragon will combine with Rooster. It is no surprise that his wedding will be in the Year of the Rooster 2017. Rooster is also his Peach Blossom star.
He has a Horse sign in the month pillar which has a relationship star called Red Matchmaker in 2017 which signifies happy events like marriage which coincidentally is going to happen in June. June also happens to be a Horse month.
His wedding day has a Rat sign. Rat, Dragon will form the Three Earthly Branches combinations with Monkey. On that day, there is a partial combination of Rat on the wedding day and Dragon in his Day Pillar in his natal chart, it is still an auspicious day.
Usually for wedding date selection, a Bazi master will look for a combination of animal signs under the Six Earthly Branches combinations or Three Earthly Branches combinations.
He is still in his current Luck Pillar of Water Wood Rabbit until 2021. He will continue to enjoy success, fame and wealth for many years to come as he still has many favorable Luck Pillars of Water and Metal after this LP.
Rabbit in his current LP and Year Pillar in his natal chart will clash with Rooster in the Annual Year Pillar 2017. Year pillar represents friends, environment, market and industry. Rabbit and Rooster are considered as betrayal clash. Clashes also means changes and challenges. There could be change of environment for him possibly due to marriage, transfers to another club or country and friends betraying him this year until February 3, 2018.
We wish him a happy wedding.
Do enjoy the below video clip of Lionel Messi.