Recently Arnold Schwarzenegger was in Kuala Lumpur, in conjunction with the Global Transformation Forum. He complained that his whirlwind trip to Kuala Lumpur was a bit short and promised that he'll be back soon. He was here to deliver his speech on "Discipline of Action" at Kuala Lumpur Convention Centre. Please also read my blog on "Assessment of Wealth Capacity". He enlightened the audience with his key six leadership messages:-
Vision
Think big and aim for the stars
'No' to naysayers
Forget plan B
Work your butt off
Don't just take, give back
I am an ardent fan of Arnold's movies and my all time favorite movie is Terminator 2. He reprised his most famous movie role in his recent film "Terminator Genisys" which was released in the middle of this year. His breakthrough film was Conan the Barbarian in 1982, which was a box office hit and resulted in a sequel. In 1984, he appeared in a science-fiction thriller film, The Terminator which was a big office-office success again.  He subsequently reprised the Terminator character in the franchise's later installments in Terminator 2 in 1991, Terminator 3 in 2003 and Terminator Genisys in 2015.
Latest news-Terminator 2 will be released in 3D in 2016. I am looking forward to watch my all time favorite movie in 3D. His other movies included Commando(in 1985), The Running Man(1987), Predator(1987), Twins(1988), Total Recall(1990), Kindergarten Cop(1990) and True Lies(1994).
He first gained prominence as No. 1 bodybuilder in the world and later ascended to stardom with Hollywood movies. Tired of starring in blockbusters, Arnold ventured into politics. In 2003, he became the governor of California. He was elected as a Governor of California in 2003 and re-elected in 2006 and sworn in for his second term on January 5, 2007. In 2011, he completed his second term as governor. He returned to the cinemas with the movie The Expendables 2, which was released in 2012. In this film Schwarzenegger starred alongside such Hollywood action legends as Bruce Willis, Sylvester Stallone and Jean-Claude Van Damme. The Expendables 2 became an instant commercial success, bringing in around $28.6 million during the first week and topping box office.
He has an estimated personal net worth of USD300m making him one of the wealthiest actors in the world. Now let us look at the Bazi chart of this rich and famous star. Please print your Bazi Chart here.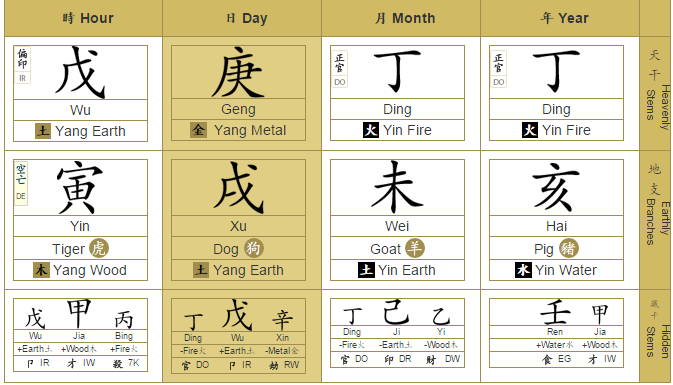 His day master is Yang Metal. He is born in summer where fire is prosperous and earth is strong. There are plenty of earth in his chart. Earth produces metal hence his day master metal is strong. It is interesting to note that earth also represents muscles and flesh in the human body and it matches well with his powerful physique and his many Mr Universe titles. Let us check his Luck Pillars.
Now we look at his timing of his wealth opportunities and break through period. He is a strong metal person. For a strong metal day master, his favorable elements are the output element which is water, wealth element which is wood and influence element or power or status star which is fire.
He will be able to control wealth once he encounters it in his destiny or in his luck pillars. Wealth is the element control by self. His day master or self element is Yang Metal, hence his wealth is represented by the wood element as Metal chops or controls Wood. As water nourishes or grow wood, water represents the money making potential or skills/talents or intelligence in the person. Hence his favorable elements are wood and water. His other favorable element is fire which represents his power and status. It is no surprise that this fire power star made him a mayor of California for two terms.
After the age of 37, he entered into a period of strong water and wood influences which dominate two consecutive luck pillar up to age of 57 years.  Coincidentally , it was at the age of 37 that he released his hit movie, Conan the Barbarian in 1982. It was his breakthrough film, which was a box office hit and resulted in a sequel. These strong water and wood elements all represents money and the strongest appeared  in the luck pillar from age of 47 to 57 years. In 1984, he appeared in a science-fiction thriller film, The Terminator which was a big office-office success again. Thereafter, he became one of the most popular action heroes in Hollywood and one of the richest actors in the world.
In summary, the favorable elements in the Luck Pillar in your destiny chart can foretell the timing when a person will achieve a break through and become rich and successful. Before reaching or entering into your favorable pillar it is important to prepare yourself for the coming opportunities by upgrading your skills in your fields or learn some new skills. Remember, the formula for luck is Luck = Preparation + Opportunities.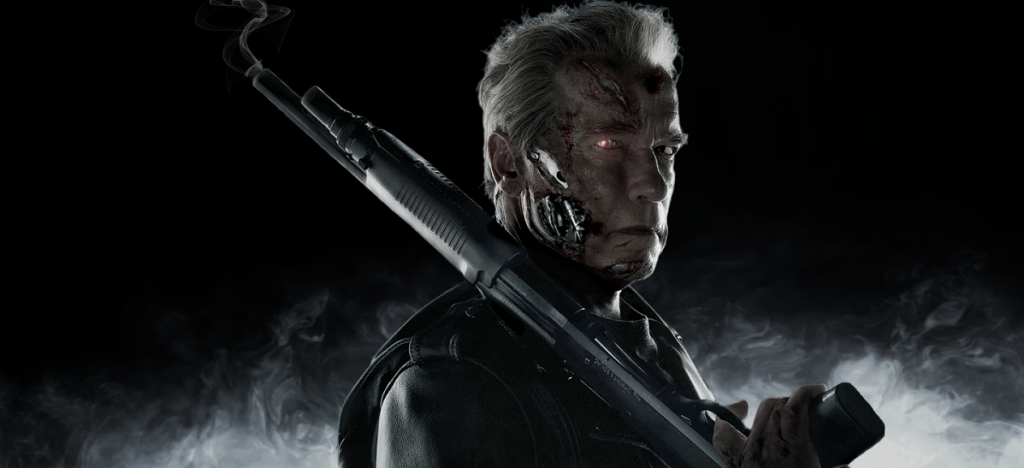 I would like to take this opportunity to wish those who are celebrating Christmas a "A Very Merry Christmas" and "Happy New Year 2016". May 2016 brings good luck, happiness and good health to you and your loved ones.
Please click here and like Digidentz at Facebook.